SIGN UP

Be the first to know what's happening at the Loren
Loren Employee Spotlight: Our Maintenance Team
April 16, 2018


Pictured: Jose (left), and Yovani (right) celebrating Loren's 50% retail capacity with coworkers.
Here at Loren, we know that community is important. Part of what makes our community so special is our amazing team of professionals who are constantly working to maintain the property and help out our residents. Our maintenance team is a central part of our Loren collective. We know how amazing they are, and we want you to get to know them too! We caught up with Jose Montas, our service manager, and Yovani Rodriguez, our senior service technician, to learn more about all that they do for Loren.
Can you tell us a bit about your position?
Jose Montas: I am the service manager here at Loren. I make sure that our hallways are always looking good, and I take care of all of our mechanical systems. I also deal with maintaining our retail areas and garages, as well as handling work orders.
Yovani Rodriguez: I am the senior tech at Loren. At the moment, I assist my supervisor with any move-ins and any service requests that are necessary. I also do a lot of the inspections around the building, including fire inspections, elevator inspections, and light inspections.
How long have you worked at Bozzuto?
JM: I have been with Bozzuto for seven years.
YR: I have been with Bozzuto since August of last year.
What did you do prior to working with Bozzuto?
JM: Prior to working with Bozzuto, I worked at a company called Palmer Brothers. I worked with them for 14 years doing construction. That's where I got my background from by doing plumbing, electrical work, and drywall framing.
YR: Before I came to Bozzuto, I worked for another apartment complex. I was an assistant supervisor with them for 3 years before coming to Bozzuto.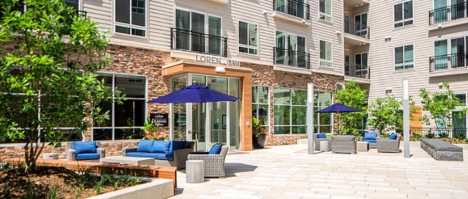 Pictured: Loren's exterior, looking beautiful thanks to our maintenance team.
What does your typical day as a service provider look like?
JM: On any typical day I wake up and go straight to the office to respond to any emails that I have. Then, we look over any work orders that we have for that day. We check to see if we have any move-ins, and if we do, then we make sure to walk the units for inspection. We check appliances, hot water, and the air conditioning before we turn the keys back over to the leasing office.
YR: Once we are done with all of the service requests that we have, we do extra things like cleaning hallways or repairing any damaged walls.
What is your favorite part about your job?
JM: My team, and our building, looking good. We take pride in the work that we do. When we get any visitors, they talk about how good the property looks. New residents are always happy when they first move in. I take my job very seriously when it comes to that.
YR: I would say that my favorite part about my job is the satisfaction of seeing a resident happy once you complete something for them. For example, if their washer is broken, I will come in and fix it so that they can do laundry again. It helps them out and puts a smile on their face, and I can tell that they appreciate me.
What is your favorite Loren amenity?
JM: The gym. We have some great equipment.
YR: I would say the game room. We have a pool table and it's a lot of fun.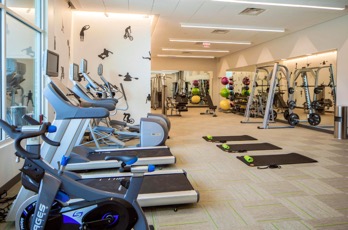 The gym at Loren
If you had to describe Loren in one word, what would it be and why?
JM: Awesome. We have everything. We're right on route 50, and there are tons of shopping centers and restaurants close by as well as transportation to the metro. In the building, we have a gym, a pool, and everything you could want.
YR: Uplifting. It's so bright. Everything in here pops, and all of the decorations are perfect for the property.
What do you want potential renters to know about Loren?
JM: I would like them to know that they will be taken care of with us. Any issues or problems that come up will be taken care of. I would also like them to know that it's a very clean property to live in.
YR: I would definitely tell them that they have a great maintenance and leasing team behind them.
What are some of your hobbies or interests outside of work?
JM: I watch a lot of movies. I like a lot of old movies. I also watch a lot of TV shows. Right now, I'm into Scandal.
YR: I enjoy watching and playing soccer and hanging out with my friends. My favorite soccer team is Barcelona.
What about this job makes you #BozzutoProud?
JM: The way that we maintain as a team. The property is always in shape and always looking good.
YR: The atmosphere. I have never worked with people that I enjoy working with like I do here at Loren. The people are genuine, supportive, and they help each other out. I am proud to work in that kind of environment.
Thanks, Jose and Yovani, for all of your hard work! Our Loren community wouldn't be the same without you. If you see Jose or Yovani around the property, make sure to say hello!