SIGN UP

Be the first to know what's happening at the Loren
Let Freedom Ring with the Best BBQ Recipes this Fourth of July
June 29, 2018
Every year we celebrate our country's independence on the 4th of July with friends, family, and best of all, barbecues. With burgers sizzling on the grill, an ice cold drink in your hand, and fireworks lighting up the sky, don't ruin the day by showing up empty handed! Not sure what to bring? Check out three recipes by our very own Loren staff that are sure to keep your guests talking.
If you're looking for a hearty side dish, try out Amy Parada's, Sales and Marketing Associate at Loren, favorite Avocado Pasta. Want to know her secret ingredient? You'll have to read below to find out!
If you have a sweet tooth and prefer dessert, take a swing at Maria Brandao's, Assistant Property Manager at Loren, patriotic flag cake!
Don't forget to wow your guests with Nina Kent's, Property Manager at Loren, refreshing watermelon cocktail, sure to cool you down from any summer sun. No matter which you choose, let freedom ring with these spectacular recipes!
Avocado Pasta Salad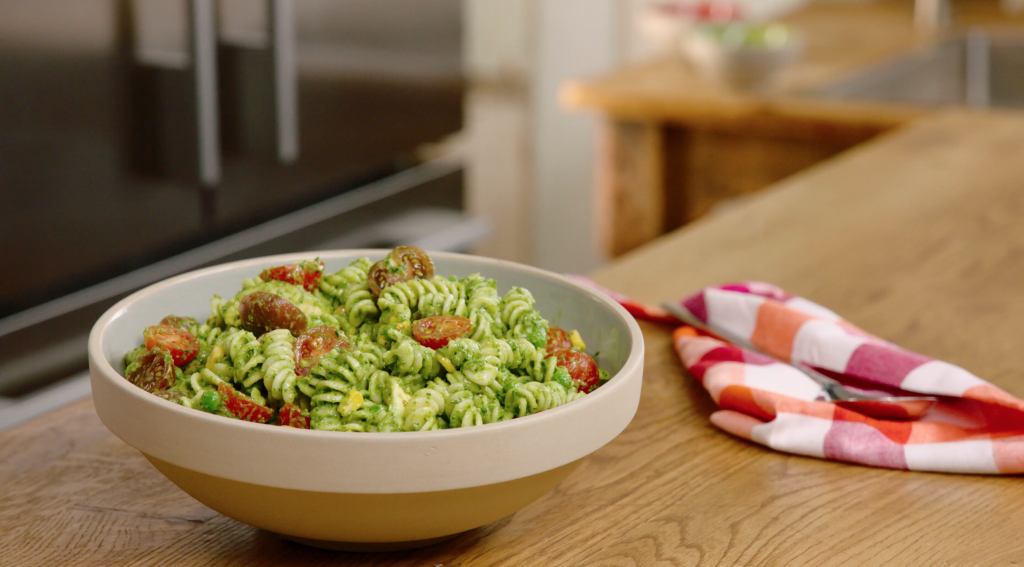 Image Courtesy of AOL.com.
Ingredients:
12 oz cooked pasta
1 cup sweet peas
1 cup corn
2 cups spinach
2 quartered avocados
4 tbsp lemon juice
1 sliced garlic clove
1 tsp salt
¼ tsp pepper
2 cups spinach
2 cups halved baby tomatoes
1 sliced avocado
Directions:
In a food processor, combine the spinach, avocados, garlic, lemon juice, salt, pepper and blend until smooth.

Pour over the cooked pasta and toss until pasta is evenly coated.

Slice the remaining avocado and add into the pasta, along with the corn, sweet peas and halved baby tomatoes.

*Amy adds the optional Pesto sauce.
Flag Cake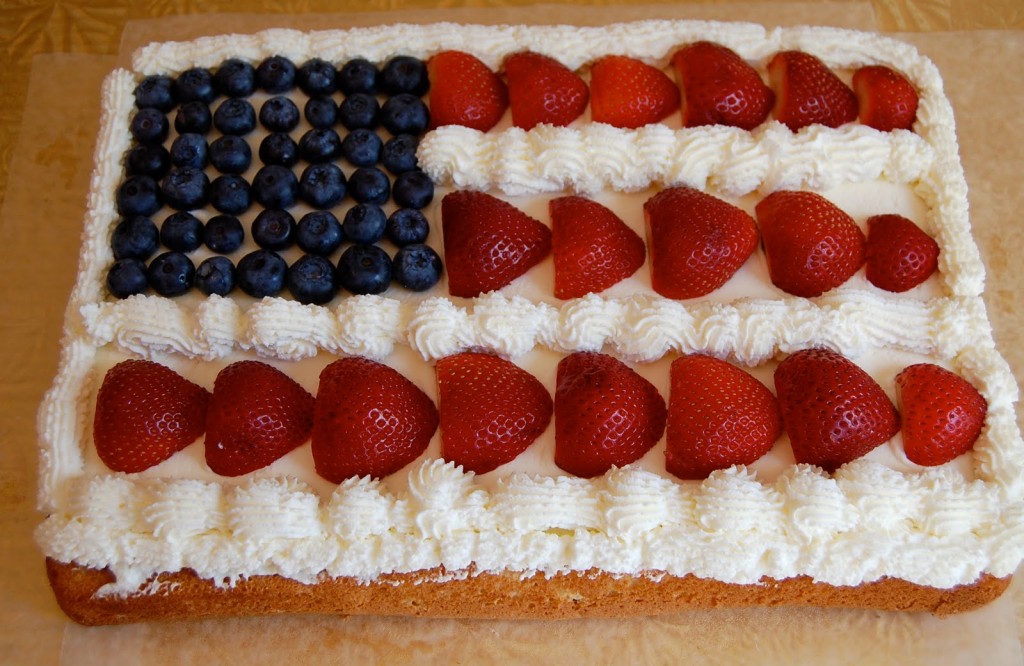 Ingredients:
For the Cake
1 cup all-purpose flour
1-½ teaspoon baking powder
¼ teaspoons salt
5 whole eggs
1 cup sugar, divided
1 teaspoon vanilla
⅓ cups milk
For the Icing
1 pint heavy whipping cream
3 tablespoons sugar
1/2 teaspoon clear vanilla extract
For Topping
Fresh blueberries, rinsed and patted dry
Strawberries, rinsed and patted dry. Cut off the stems and slice in half.
Directions:
Preheat oven to 350 degrees. Line the bottom of a 9 x 13 inch pan with parchment paper, then liberally spray with cooking spray until coated.

Combine flour, baking powder, and salt in a large bowl. Separate eggs.

Beat egg yolks with 3/4 cup sugar on high speed until yolks are pale yellow. Stir in milk and vanilla. Pour egg yolk mixture over the flour mixture and stir very gently until combined.

Beat egg whites on high speed until soft peaks form. With the mixer on, pour in remaining 1/4 cup sugar and beat until egg whites are stiff but not dry.

Fold egg white mixture into the batter very gently until just combined. Pour into prepared pan and spread to even out the surface.

Bake for 20 to 30 minutes or until a toothpick comes out clean. Turn cake out onto a large rectangular platter and allow to cool.

To make the whipped cream, chill mixing bowl and whisk attachment for 10 minutes in the freezer.

Add the heavy cream, sugar and vanilla. Beat on high till the cream makes stiff peaks. Reserve 1/3 of the whipped cream for piping.

Spread the remaining 2/3 of whipped cream over the surface of the cooled cake. Smooth the cream over the cake with an offset spatula. Then add the blueberries in neat rows to the upper left corner of the cake to make the "stars". To make the "stripes", line up neat horizontal rows of the strawberries.

Put reserved whipped cream into a pastry bag fitted with a large star tip. Pipe rows of cream in between strawberry rows and around border of cake. Keep cake refrigerated until ready to serve.
Watermelon Cocktail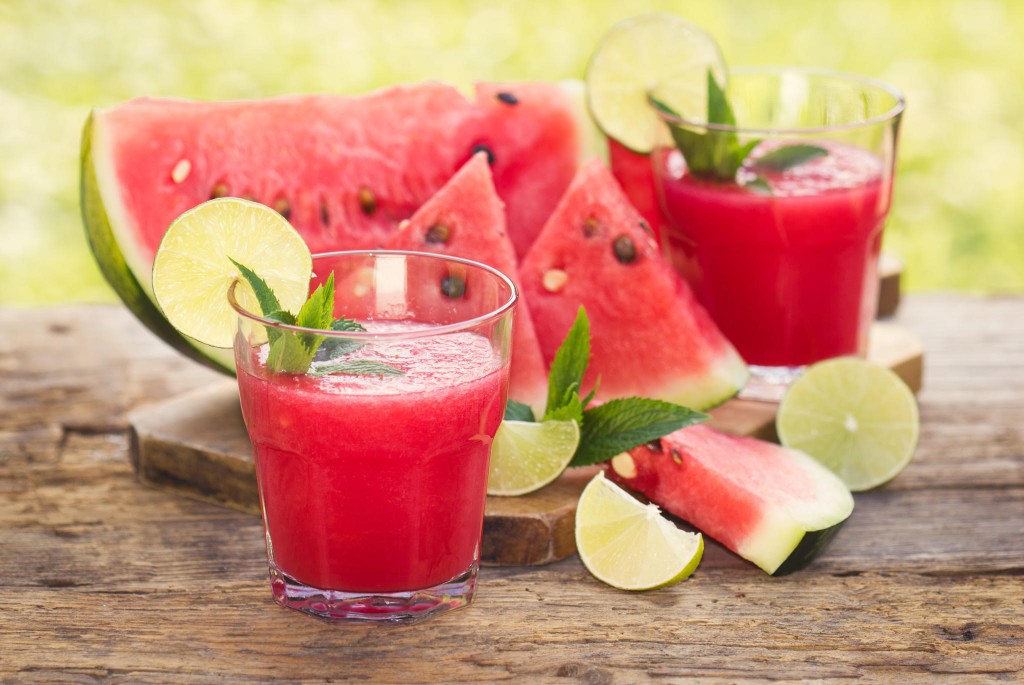 Ingredients:
3/4 cup vodka (can be watermelon flavored or unflavored)
1 cup favorite lemonade
1 cup pureed watermelon (place chunks of fresh watermelon into a food processor or mash by hand in a bowl with fork)
Sprigs of mint
1 lime, sliced for garnish or stirred in
Optional additions:
Add seltzer water or Sprite for some fizz
Substitute vodka with a favorite rum or tequila
Add Triple Sec for extra sweetness
*Don't forget to try it first! You may want to add an extra shot or two per your personal taste.